Two And A Half Girl | Utrecht, NL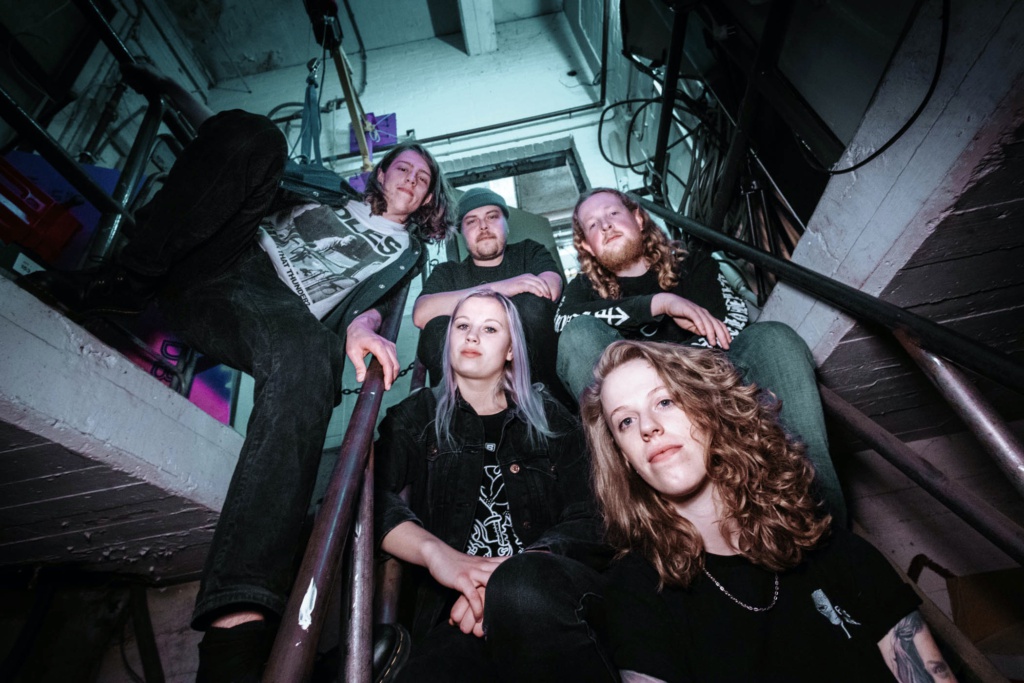 This five piece from Utrecht creates their own mix of emo, punk and rock full of raw vocals, sturdy guitars and infectious melodies. The band is not afraid to give their opinion on personal and sensitive issues, such as discussing mental health, alcohol and drug use among young people.
The band formed in 2018 and found its current line up in the fall of that year. In early 2019, the band released the EP 'Prove You Wrong'. This was celebrated with a release show in Paradiso. The EP was supported by two lead singles: 'Something New' & 'Strayed From The Path'. The first mentioned song was featured on Jared Dines' YouTube channel with 2.9 million subscribers, and the second gained a lot of attention on Spotfiy, giving the band their first song with over 100.000 streams. This gave the band their first international publicity and attention.
In 2020, in the middle of the corona pandemic, the band released their EP 'Disconnected'. The EP received positive reviews from the likes of 'Guitarist' and 'Musicmaker'.
"A perfect gateway release for anyone looking to dive deeper into the genre." ★★★★ – LLUID
'The strength is the combinaAon of energeAc hardcore with influences from different styles and the both brutal and sing-
along vocals' – White Room Reviews
'Hard and melodic without going too far in either direcAon.' – Never Mind The Hype
The music video for the lead single "Carried Away" featured members of numerous bands, including For I Am King, Tusky, Fleddy Melculy and X-raiders. The single "Drowned and Drained" was added to Spotify's editorial playlist called "All New Punk" (265,000 monthly listeners), and the algorithm-based playlist "Skatepark Punks" (755,600 listeners). 'Page One Rewrite' was also added to 'All New Punk'.
Partly because of this release, and the 2021 release 'Worse Days', the band managed to maintain their momentum during the Pandemic.
March 2022 was the moment when live shows were possible again. The band immediately went on tour with Tusky, and also played the support of Tiny Moving Parts, Beachdog and Fleddy Melculy.
Their debut album 'Eividence Of A Broken Mind' was released on September 16. The record received positive reviews, and the record was celebrated with a release show in EKKO & and a  unique beer in collaboration with vandeStreek beer from Utrecht, called 'Black Sheep'.
The 'Evidence Of A Broken Mind Tour' the tour included shows in the Netherlands, Belgium and Germany. 
'This strong debut will undoubtedly open doors for this very talented band' – Musicmaker
'𝘌𝘷𝘪𝘥𝘦𝘯𝘤𝘦 𝘰𝘧 𝘢 𝘉𝘳𝘰𝘬𝘦𝘯 𝘔𝘪𝘯𝘥' 𝘪𝘴 𝘢 𝘴𝘵𝘶𝘯𝘯𝘦𝘳 𝘰𝘧 𝘢 𝘥𝘦𝘣𝘶𝘵 𝘢𝘭𝘣𝘶𝘮 𝘢𝘯𝘥 𝘵𝘩𝘢𝘵 𝘭𝘦𝘢𝘷𝘦𝘴 𝘺𝘰𝘶 𝘸𝘢𝘯𝘵𝘪𝘯𝘨 𝘮𝘰𝘳𝘦.' 8,5/10 – Nine32
'𝘛𝘸𝘰 𝘢𝘯𝘥 𝘢 𝘏𝘢𝘭𝘧 𝘎𝘪𝘳𝘭 𝘱𝘳𝘰𝘷𝘦𝘴 𝘸𝘪𝘵𝘩 𝘵𝘩𝘦𝘪𝘳 𝘥𝘦𝘣𝘶𝘵 𝘢𝘭𝘣𝘶𝘮 𝘌𝘷𝘪𝘥𝘦𝘯𝘤𝘦 𝘖𝘧 𝘈 𝘉𝘳𝘰𝘬𝘦𝘯 𝘔𝘪𝘯𝘥 𝘵𝘩𝘢𝘵 𝘵𝘩𝘦𝘺 𝘳𝘦𝘢𝘭𝘭𝘺 𝘢𝘳𝘦 𝘵𝘩𝘦 𝘴𝘵𝘰𝘳𝘮 𝘰𝘧 𝘵𝘩𝘦 𝘧𝘶𝘵𝘶𝘳𝘦.' – White Room Reviews
MUSIC
UPCOMING SHOWS